Proz, the international translators' portal, is going to run a series of free webinars for registered users in March.
According to the programme of events now available here, the sessions will mainly be covering computer-assisted translation (CAT) tools:


Wordfast Pro 3.3




memoQ 2013 R2




SDL Trados Studio 2014




Déjà Vu X3 (aka "DVX3")




Fluency




and Wordbee Freelancer.


In addition, you will also be able to learn more about utilities like WordFinder, a web-based dictionary suite, and Translation Office 3000, a package for managing your translation and proof-reading assignments, your customers and your accounting. Several of these programs are now available in brand new versions with fresh interfaces.
There are also going to be two sessions on getting in touch with potential customers via Proz's own web platform. At the time of writing this post, places were still available for the session on 20 March.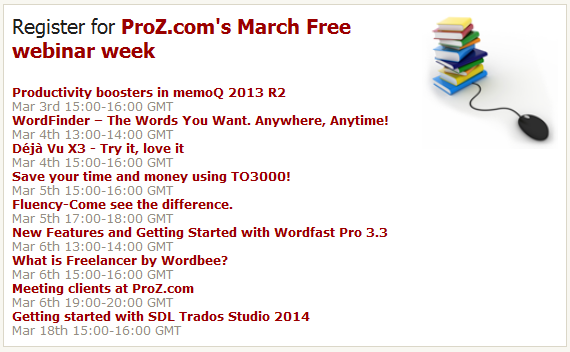 To participate in any of these events, all you have to do is register to attend them. If you aren't a registered user yet, sign up for free or take out a paid subscription, depending on what features you would like to use.
Proz.com regularly stages training events for translators and interpreters, not just giving them an opportunity to learn about the latest software tools, but also to improve their knowledge of subject areas they work with such as legal contracts, interpreting in court or for the police, medical translation, tourism and travel, software localisation and audio subtitling, to mention just a few examples.
Some of the events are recorded and can be viewed any time, albeit at a small cost. These are known as "on-demand courses".
The training Proz offers isn't just in English, but that does seem to be the main lingua franca used. Sometimes presentations are held in other languages; some of the events in March are going to take place in Spanish, Italian, French, German, Russian or Chinese, for instance.
Quality-wise, the free webinars and "virtual conferences" I have attended so far have generally been reasonable to good. Not brilliant, but generally interesting. Some were a bit too commercial for my taste, but still, you learn to pick out the cherries after a while...
Why not take a look at the events lined up in March and see if there are any that interest you?
Regards,
Carl
---
images: screen shots taken from Proz.com