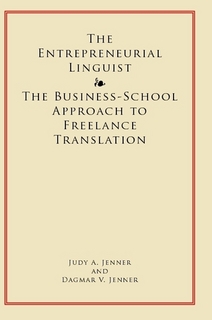 Although "The Entrepreneurial Linguist" by linguists Judy and Dagmar Jenner first appeared on the book market in 2010, I have to admit it took me a while to get round to buying a copy and reading it myself. Fortunately, many of the subjects the book covers are still applicable to freelance translation work today – as the title implies, it's mostly about setting up and running a translation business long-term rather than using specific software tools to get your work done, although these are also discussed briefly.
The book is basically a practical "how to" guide and covers 11 subject areas over almost 200 pages. The choice of topics is a personal one reflecting the two authors' own interests and activities – as translators, bloggers, members of translators' associations and conference speakers. This and the fact that it focuses on ways of doing business soundly and successfully ("the business-school approach" in the title) make it stand out from other works of this kind, which try to be as general as possible. It's also not solely directed at translators in the US market – the two authors actually work in different countries, the United States and Austria. They are also sisters and spend time together in each other's country every year, which gives them a broader perspective on business than usual.
Consequently, the scope of this book is pretty wide. It sets the scene by addressing the way you should see yourself as a freelance translator, namely as an independent entrepreneur who wants to make a living from his or her skills:



"The first thing you need to do is stop thinking of yourself as 'just' a freelance linguist and to start thinking of yourself as a business. You are selling your services; therefore, you are a business."

(p. 19)



This might seem obvious, but it's worth reminding ourselves what we are actually doing from time to time as it's easy to lose sight of sometimes. The Jenners also make a point of putting things into context: "In addition, one-person businesses account for a staggering 78% of all U.S. businesses" (according to figures from 2007; p. 20).
Having discussed the best mindset to adopt, the Jenners turn to organisation and accounting, a section which contains useful tips (including the very wise insight that it might be best to get a trained accountant to help you rather than attempting to tackle the financial side of your business all by yourself, which not everyone's cut out to do). The authors then go into some detail about social media, networking, blogging and marketing (the longest sections, in fact) and subsequently talk about strategies for developing your business (in a nutshell, "no pain, no gain" and "yes, you can"!).
This is followed by sections on pricing, negotiating, professional development, getting actively involved in an association and starting up a local chapter, and getting the right balance between your work and private life. A recap in the final chapter conveniently sums up the most important points made in the book.
As I've said, this is a personal selection of topics; the sections on blogging and "giving back" won't appeal to every reader as we are all under time constraints and things like blogging and playing an active role in a professional association are time-consuming and may involve travel as well as background research. But still, there's something of value for every translator in this book. In fact, much of what's said applies to anyone who wants to set up a business of their own. A worthwhile read.
Regards,
Carl
---
Links
You can order a copy of the book from Lulu.com, other internet bookshops or your conventional high-street bookshop. The book is available in print and as an e-book (PDF).
image: © Judy and Dagmar Jenner, The Entrepreneurial Linguist