Adobe is well-known for its free PDF readers, software that enables you to open, view and print out "portable document format" files on any software platform whatsoever, not just on Windows. In their current reader, Adobe® Reader® XI, it's also possible for users to highlight words, phrases or whole passages and add annotations, all of which are important functions for reviewers of texts.



If you want to create a Word®, Excel® or RTF file from a PDF document you've received from a customer, for example, Adobe® Reader® XI will also allow you to do this automatically, albeit at a charge: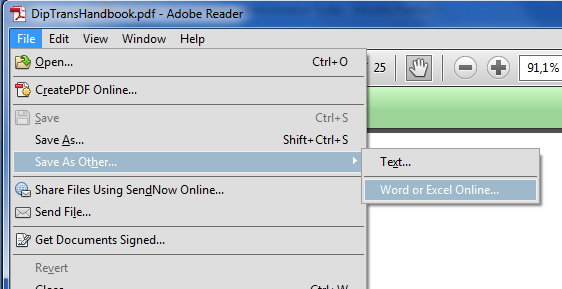 This is achieved by using Adobe's Web-based services, which you need to sign up for beforehand (the lowest rate was $19.99 per year at the time of writing, which seems quite reasonable). Once you've registered and bought a suitable subscription, you can export your PDFs conveniently from inside Reader® and the document you want to export it to will be sent to you soon after by Adobe.



Another way of doing it is to buy Acrobat® XI Pro from Adobe, which is basically Reader® XI's big brother. Acrobat® allows you to export the PDF file you've opened to other formats using its own resources and do so at no extra charge. It costs a lot more, mind you, so you ought to weigh up the pros and cons of a purchase first of all. If you already have an old copy of Adobe® Acrobat®, you can upgrade to version XI at a special reduced rate until the end of May, I was recently informed.



Acrobat® is nonetheless an interesting proposition for translators and reviewers (aka "proof-readers" and "copy-editors"). First and foremost, it can generate various kinds of Microsoft® Office® documents from PDF files:



- Word® 2003/2010

- Excel® 2003/2010

- PowerPoint® 2003/2010

as well as

- HTML

- RTF and

- TXT (which is obviously only text-based).



When I recently upgraded from Acrobat® 8 to Acrobat® XI, I was amazed to see how much the PDF > Word export had improved. The optical character recognition (OCR) worked very well on my documents and the page layout in Word® was also excellent, which meant I was able to import and start translating it very quickly.



Besides producing high-quality exports, Acrobat® also makes reviewing PDF documents relatively easy: just click on the word "Comment" on the far right and a panel of editing features ("annotations") will appear: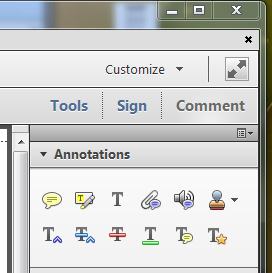 Here are some of the options that a reviewer is likely to need:



- add sticky note

- highlight text

- add note to replace text

- strike through.



If you click on "Tools" in the same menu, this will open another panel that allows you to edit the text and images in the PDF file: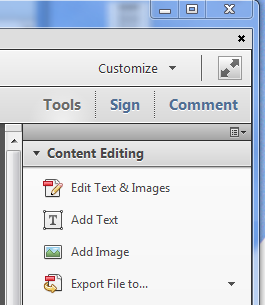 Select "Edit Text and Images" and then the text will be divided into sections with a line around them, each of which can be edited directly – no annotations this time, but direct changes. Admittedly, this option isn't one that I've needed yet, but if a customer ever wants a PDF brochure to be checked and edited particularly quickly, skipping the DTP edits, then this would be a way of doing it.
In part 2 of this post, I'll take a closer look at the OCR feature in Reader® and Acrobat®.
Carl
images: my own screen shots
---