The website https://ampertrans.de and its UK and international mirror sites https://ampertrans.co.uk and
https://

ampertrans.com are the commercial websites used by Amper Translation Service. The websites are currently hosted in Germany.

For information about my general terms and conditions of business, please write to me, the owner/manager of the company. The terms and conditions of use with respect to the ATS website are given below.
Please bear in mind that Amper Translation Service has the right to alter the information on this website from time to time as it seems fit, including the terms and conditions concerning the use of its website.
Feel free to contact me directly for current information on my services or request a written quotation for your project. Please understand that
a project will only be accepted if I confirm receipt in writing and explicitly say I can do it

for you. If you don't receive this confirmation, then the project will not have been started. The best thing to do is follow up an e-mail with a phone call to check your message has arrived.
---
Terms and conditions of use
Disclaimer
Although I endeavour to ensure the technical and factual accuracy of the information featured on this website, this cannot be guaranteed and errors or discrepancies with respect to my current business conditions may occasionally occur. (Please click here for further details.)
---
External links
ATS cannot be held responsible for the contents of any web pages referenced by an external link. Such links are included in good faith to provide the user with additional information of potential interest. ATS has no influence over their contents, their correctness or how frequently they are updated by their own owners.
---
Reproduction and copyright
You may only reproduce content mentioned on this website if it is for your own personal use and is intended for non-commercial purposes.
If you wish to copy any of the content, please always quote the source ("Amper Translation Service").
Copyright
© 2005-2021 Carl Carter. All rights reserved.
The ClipArts used on this website are the property of Microsoft Corporation.
All product names mentioned on this site are the property of their respective owners and may be registered trademarks. This equally applies to any corporate logos used.
The screen shots and logo images that appear on the Resources pages (external links) are the property of the content providers and have only been inserted here to refer readers to their sites.
---
Linking to this website
You may provide links to this website providing (a) you do not remove or obscure the copyright notice or any other notices on this website, (b) you discontinue providing a link to this site if instructed to do so by me.
If you wish to provide a link to the ATS website, please contact me before doing so and I'll give you some help if necessary.
---
General points on using this website
Use of this website is governed by and construed in accordance with Federal German law. The website is hosted in Germany. By using it, you agree that any dispute or matter that arises between you and ATS will be dealt with exclusively by the courts of the Federal Republic of Germany.
If any part of these terms and conditions is found to be unenforceable, void, illegal or invalid, the remaining provisions shall remain in full force.
---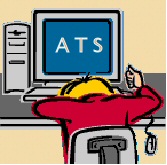 If you encounter any technical problems on the website, then please contact me by e-mail as soon as possible so that I can deal with them quickly.
Suggestions regarding site enhancements or extra content of relevance to translators are also welcome.
---
Data protection and data collection and usage
Like practically every other business these days, I collect data about visits to my website and blog ("web traffic statistics"). This is mainly done to see what pages and subjects are of interest to users. This data is anonymous and is stored on a server in Germany run by a web hosting company. It is not used for marketing purposes and is not sold or passed on to any third parties.
If you wish to send me any information you feel is confidential, please get in touch and we can discuss the various options for doing so securely. (E-mail is not very secure, but files can be password-protected, for instance. Other file-transfer services such as WeTransfer are another possible option.)
For more information on any of these points, please see my data privacy page.
---
Amper Translation Service, ATS, Carl Carter, manager, address, telephone, phone, fax, telefax, e-mail, email, contact, contacts, website, Webmaster, legal notice, copyright, rights, liability, liable, terms, terms of business, terms of use, terms and conditions, disclaimer, responsible, responsibility, external links, linking, copyright, reproduction, ampertrans, T&C, terms and conditions of use, www.ampertrans.com, www.ampertrans.de, www.ampertrans.co.uk